Intel Invests 8 Billion to Complete Computer Chip Manufacturing Plant in AZ
3,000 new jobs are expected to be created with completion of the plant.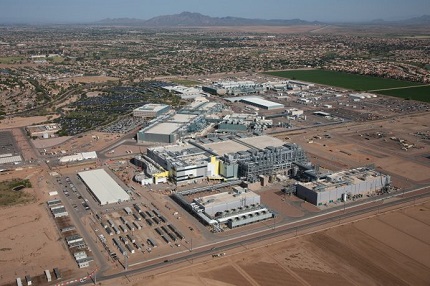 On Wednesday, Feb. 8, Intel CEO, Brian Krzanich announced alongside President Trump in the Oval Office that Intel would invest 8 billion to complete Fab 42, a computer chip manufacturing plant in Chandler, Ariz., which began construction in 2012, but was never completed due to declining sales of personal computers.  With the emergence of new technologies and the ever growing Internet of Things (IoT) demand for cutting edge computer chips is on the rise, prompting Intel to resume construction of the plant.  Krzanich also cited the Trump Administration's support of businesses as a reason to resurrect the project, though no financial incentives were reportedly offered by Trump to finish the plant.
The plant will join two other Intel semiconductor factories in Chandler, and according to Intel is expected to create "approximately 3,000 high-tech, high-wage Intel jobs for process engineers, equipment technicians, and facilities-support engineers and technicians who will work at the site. Combined with the indirect impact on businesses that will help support the factory's operations, Fab 42 is expected to create more than 10,000 total long-term jobs in Arizona."  The move  is a step in the right direction for the computer chip giant following a restructuring of the company and layoffs of 12,000 people, including 560 in Chandler.  Intel remains the world's largest producer of computer chips.
Fab 42 will manufacture what Intel calls seven nanometer chips with transistors more densely packed than current chips for greater energy efficiency.  Krzanich stated, "This factory will produce the most powerful computer chips on the planet."
Source: